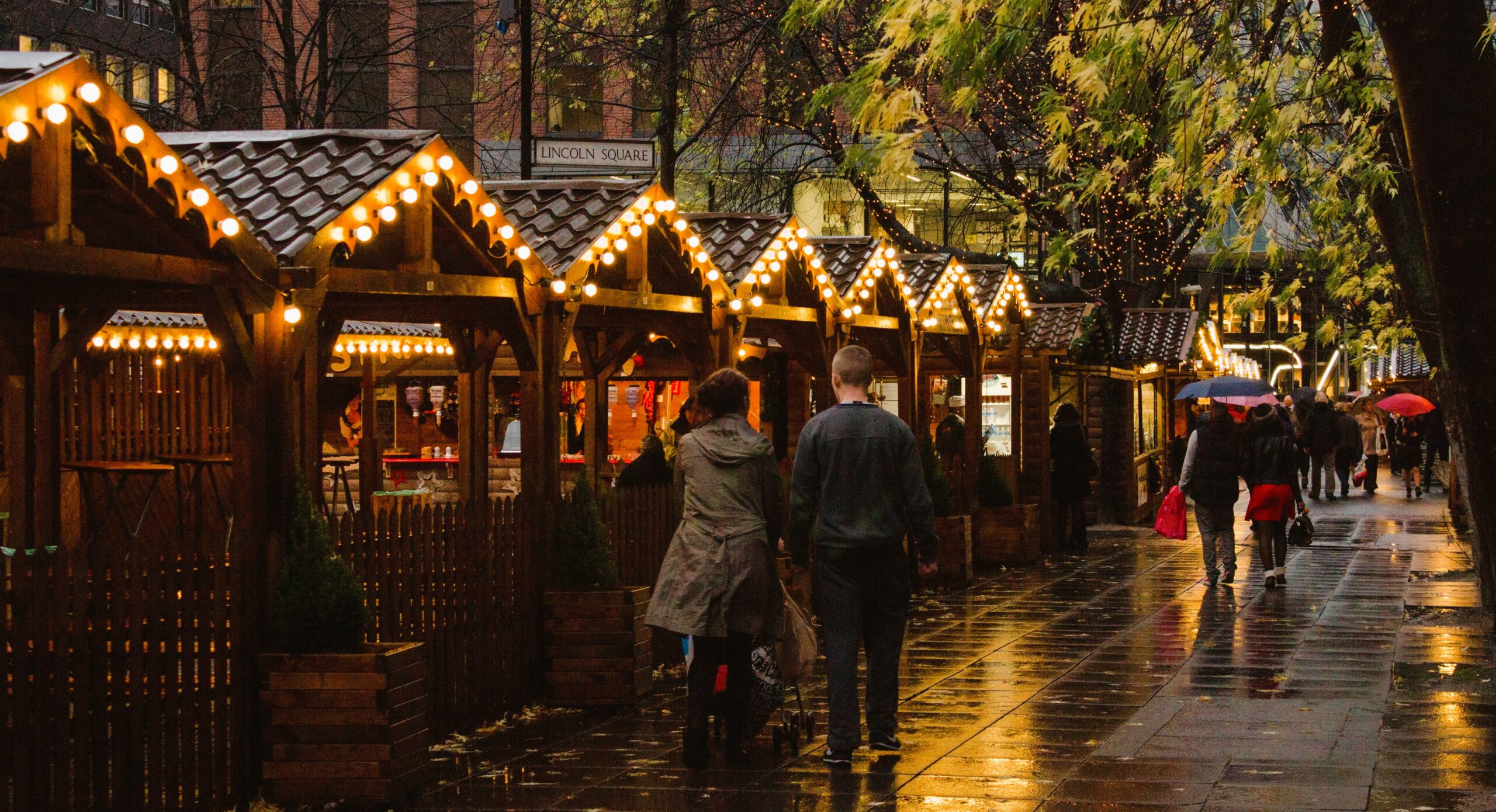 Winter in Somerset: Where the Magic Begins


Winter may have arrived, but that doesn't mean things are slowing down here in Somerset. In fact, they're heating up with exciting events that will light up your November and December! We know, when you're caught in the whirlwind of a busy life, it's easy to forget the simple pleasures and the magic of this time of year. But that's precisely what we're here to remind you of. We've handpicked a treasure trove of events to reignite your love for life's little wonders – because Somerset doesn't do 'quiet' winters. Think cosy Christmas markets, illuminated twinkling lights, handmade goodies and adventures waiting just beyond your cottage door. So, grab your partner, pack some warm clothes and your walking boots, and let's dive into the enchanting world of Somerset's winter delights. Join us as we unwrap the charm of November and December in this beautiful corner of the world.
November
Hestercombe Gardens Christmas Market

(Taunton) Fri 17 – Sun 19 Nov, 9-5 


Imagine strolling through a winter wonderland full of crafts and festive cheer at Hestercombe Gardens. With unique gifts and heartwarming treats, this market is where memories are made. Plus, the natural features and views of the Landscape Garden come to life at night, with spotlights, lit trees, and coloured paths drawing you up towards the Great Cascade, down past beautiful dynamic fountains in the Pear Pond, and through a Christmas tree grove below the Formal Garden, before finishing with a show-stopping display in front of Hestercombe House.
Handmade Market, Crispin Hall (Street)

Sat 18 Nov, 9:30




Discover the artisanal magic of Crispin Hall Street as local creators showcase their handmade treasures. It's the perfect opportunity to find that special, one-of-a-kind gift.
Christmas Light Switch On – Quedam Centre (Yeovil) Sat 18 Nov, 5pm
Watch as the town of Yeovil comes to life with the twinkle of Christmas lights at the light switch on. This celebration kicks off from 4.30 pm and promises an unforgettable evening filled with live music and dance performances from both local and professional groups. While the festivities continue, you and your family can enjoy a range of creative activities at Yeovil Art Space, ensuring there's something for everyone to get involved in. EPS Yeovil will tantalise your taste buds with seasonal delights, and a craft market will be in full swing, offering the perfect opportunity to start your Christmas shopping early. Here, you'll find local produce and handcrafted treasures from talented local artists.
Glastonbury Carnival Sat 18 Nov, 5pm
Be captivated by the enchanting sights and sounds of Glastonbury Carnival. A vibrant spectacle that'll leave you spellbound. Find out more here.

Bath Christmas Market Thurs 23 Nov to Sun 10 Dec
Bath Christmas Market is a magical experience like no other. Picture hundreds of chalets nestled amongst iconic monuments as you walk through the historic streets, soak up the festive atmosphere with mulled wine on every corner, sample the delights from the food sellers & find the perfect presents for your loved ones.
Yandles Christmas Market (Martock) Fri 24 Nov 2-7pm
Yandles invites you to explore their Christmas market, where you'll find the perfect gifts and festive delights, all lovingly handcrafted by local craftsmen and women.
West Somerset Railway Winter Lights Every Friday from 24 Nov to 15 Dec, depart at 17:30 and 19:30
Embark on a magical train journey through the heart of Somerset. At Bishops Lydeard Station, the magic begins. A seat aboard an illuminated steam train awaits, ready to take you on an unforgettable winter journey. Travel along the enchanted track, through woodlands and countryside transformed for the season. Spectacular lineside displays will shine and glow, to the amazement of the whole family. An encapsulating tale will unfold along the way, before you arrive at Crowcombe Heathfield, where you will gaze in wonderment through the carriage windows at a famous station steeped in festive spirit. It's then back to Bishops Lydeard in your cosy, comfortable carriage before your wonderful Winter Lights journey becomes Christmas memories to treasure.
Abbotsbury Subtropical Gardens Illuminations (Dorset) Fri 24 Nov – 31 Dec
Don't miss the breathtaking spectacle of Abbotsbury's illuminated gardens, where colourful lights transform and illuminate the Subtropical 18th-century gardens, creating a wonderful winter trail in the dark. Journey through the heart of the Gardens on this year's extended route and experience the rare plants and trees in spectacular colour, highlighting the forms, shapes, and textures about Abbotsbury.
Glastonbury Frost Fayre Sat 25 Nov, 12-6pm
Immerse yourself in the festive spirit of Glastonbury Frost Fayre, where charming stalls, entertainment, and merriment abound. All day buskers, live performances from five stages on Benedict Street, Magdalene Street, Northload Street, Archers Way, and the Melodrome Stage at the top of the High Street, official light switch on for the Market Square Christmas Tree, and fairground rides for children.
Taunton Winterfest Sun 26 Nov, 6pm
Enjoy a fun-packed day of fairground rides, great food, and fantastic entertainment from 10am through to 8pm. Stage performances include the finalists of Taunton's Got Talent, part of Go Create, and many other local beloved bands. Look out for a real-life unicorn, a Snow Queen, Jack Frost, and those mischievous little elves. The Mayor and friends will officially turn on the Christmas Tree Lights at 6.30pm in the heart of the town.
December
Dunster by

Candlelight

Fri 1 & Sat 2 Dec, 4:30pm

Experience the allure of Dunster by Candlelight, where the mediaeval village turns its back on the present and lights its streets with lanterns. The atmosphere is both traditional and exciting, truly an event for all ages. As you wander through the historic streets, you'll find yourself transported to a bygone era, where the warm glow of lanterns casts a magical spell. It's a celebration that resonates with tradition and promises to ignite the festive spirit in your heart. Whether you're young or young at heart, Dunster by Candlelight offers an experience that will captivate and enchant. It's a step back in time that will leave you with cherished memories of a holiday season unlike any other. Don't miss this magical journey through the streets of a village that knows how to keep the spirit of Christmas alive.
Christmas Fair at Bere Cider Company (Aller) Sat 9 Dec, 10-3pm
Delight in the flavours of the ciders produced here, wander through the large hall with crafts of the season at Bere Cider Company's Christmas Fair. An idyllic place to find unique gifts and festive treats.

Yeovil Christmas Festival Fri 15 Dec – Fri 22 Dec, Yeovil Showground
The Yeovil Christmas Festival at the Showground promises a week of festive fun, entertainment, and holiday spirit.

Christmas in Wells Sat 16 Dec, 9-3pm

Over 100 traders will transform Wells Market Place and the Bishops Palace Green into a winter wonderland. They'll set up their festive stalls brimming with an array of gifts, crafts, and delectable food and drink products. This spectacular market provides you with the perfect opportunity to discover unique gifts and indulge in treats for the festive period.
 With a charming backdrop of historic architecture and the spirit of the season in the air, this event is not just a shopping experience, but a true immersion into the heart of Christmas. Wander through the market, savour the delicious culinary offerings, and explore the craftsmanship of local artisans.
 It's a day filled with the magic of the holiday season, where the joy of giving and the warmth of community come together. Make "Christmas in Wells" your destination for finding that perfect gift and creating cherished holiday memories in the heart of this historic city.
These events promise unforgettable moments and a holiday magic in Somerset. Don't miss out on the chance to immerse yourself in the spirit of the season, book your stay with us now!